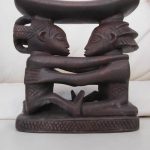 UFAR, an African-inspired, US-based nonprofit organization, was formed in 2004 by Trenton Rotarian Dr. Daniel Shungu to fight Riverblindness in the Congo.  
Join us for an African Soiree and Auction fundraiser in Princeton
Saturday, April 8, 2017
5:30pm – 10:00pm
Location and other details to be announced on www.riverblindness.org/african-soiree-in-princeton.
The guest of honor and featured speaker will be Dr. William Campbell 2015 Nobel Prize winner for Physiology and Medicine for the development of Ivermectin – the drug UFAR uses to fight Riverblindness.