Bridging the Gap Experiment with Trenton Central High School Spring 2009
by Al Quinton
Introduction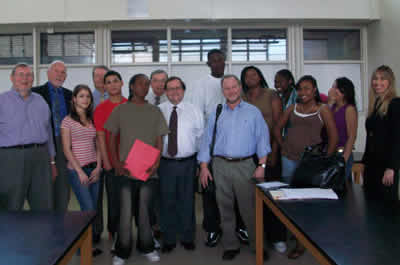 Twelve members of the Rotary Club of Trenton volunteered to participate in a Bridging the Gap program experiment with Trenton Central High School. Contact was made with two teachers (Ms. Sadoff and Ms. Malach) that had marketing classes at the beginning of the spring semester and arrangements were made to conduct 6 sessions with a total of 8 student teams totaling approximately 24 students.
Roles of Participants
BTG Coordinator arranged the initial contact with the TCHS teachers and developed a schedule for the 6 BTG sessions (4 coaching .and 2 banker evaluation). The sessions were scheduled for the normal class times of the two marketing courses (10 – 11:15am and 11:30 to 12:45pm for Tuesday and Friday). Volunteers were solicited for either the coaching role (8) or the bank evaluator role (6). The Coordinator also contacted the District 7510 BTG Coordinator to arrange for the BTG material (manuals for coaches, bank evaluators and students) that were distributed to all parties participating.
BTG Coaches were responsible for familiarizing the students with the various aspects of preparing a business plan to acquire and operate a local deli at a site near their school. They also advised students on how to prepare a loan application for part of the acquisition and start up costs. Two preliminary sessions were held prior to the first bank evaluator session and two more follow up sessions were held to improve the student's work based on the feedback from the bank evaluators.
BTG Bank Evaluators were responsible for reviewing the preliminary business plans and loan applications. They offered suggestions on how to improve the student's work from the lender's perspective. Their advice included areas such as finance terminology, tax returns, personal credit history, working capital, partnership alternatives as well as the responsibility of the borrowers to repay the loan in a timely manner.
TCHS Teachers were responsible for introducing students to this learning experience including organizing student teams, explaining the BTG scenario, introduction of basic financial reporting such as income/P&L and balance sheet statements. This introduction began about 2 weeks before the BTG sessions began. Between the BTG sessions held (Tuesday and Friday) with BTG instructors, the teachers coached the students further in preparing the business plan and loan application documents. They also advised the students on presentations skills and business etiquette.