Golf Scramble Event
 Tee up for the most EPIC Golf Scramble of the year! 
Rotary Members! Get ready to swing, scramble, and score big in our thrilling! 
Gather your squad, grab your clubs, and hit the greens for a day of golfing excitement like never before.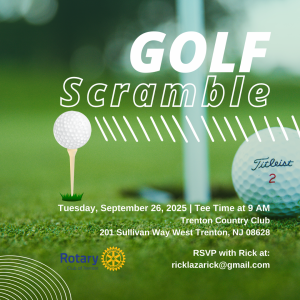 What to expect:
 Team up with friends or make new ones.
 Rotate shots and strategize for the perfect play.
 Compete for fantastic bragging rights.
 Enjoy refreshing beverages and delicious bites at the 19th hole.
 Capture unforgettable moments on the course.
Whether you're a seasoned pro or a newbie to the fairways, this scramble promises an unforgettable golfing experience! 

Don't miss out on the action-packed fun! Mark your calendars and join us for a day of swinging success.