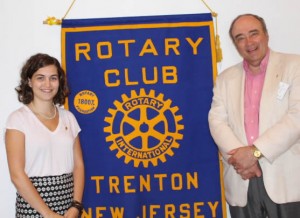 Michael Tusay, Chairman of the Trenton Rotary Club Lion Woodward Scholarship Committee congratulates Carina Miranda on her graduation from the Pratt Institute.  Ms. Miranda was selected as the first recipient of the Lion Woodward scholarship four years ago while a senior at Ewing High School.  All the members of the Trenton Rotary Club wish her every success and happiness with her professional and community service endeavors.
About the Trenton Rotary Club Lion Woodward Foundation Scholarship
Trenton Rotary established the LION WOODWARD EDUCATIONAL FUND in 1928 as a memorial to assist worthy students in achieving their educational goals. The loan fund was converted to a scholarship 4 years ago; it is now held at the Princeton Area Community Foundation, and overseen by a committee of five current Trenton Rotarians. One scholarship of up to $10,000 is awarded annually to a high school senior from Trenton or greater Mercer/Bucks County high school. The award is paid out in amounts of up to $2,500 per year for up to four years. Applications are due March 1 each year, and a variety of factors are considered as part of the evaluation process, including financial need, academic achievement, exemplary community service, and leadership. For more information, please visit: https://www.trentonrotary.org/lion-woodward-foundation-scholarship/.