Each year, Trenton Rotary sponsors a football pool to benefit local charities. The whole pool is run on-line through CBS Sportsline. We invite anyone in the community to participate. Picks are made weekly and the proceeds are handles as a 50/50 with 50% going to charity and 50% being issued as prizes. We offer a weekly prize each week and a cumulative 1st, 2nd and 3rd place prize at the end of the season. We also run a separate off-line superbowl box. Contact Rick Lazarick for details.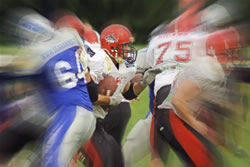 The Trenton Football Pool is a fun way to raise funds for our charitable giving projects. Anyone can join: Rotarians, friends and families.
The entry fee is $225. This covers you for the enter for the entire 17 week season (less than $13.50 per week, less than $1 per game).
For all of those who won big bucks last year… time to double down, and give us a shot at winning them back. For all of those who didn't, but had fun trying… smile, because it's time for some more fun. Are you ready for some Football?!?