The Paul Harris Fellow recognition acknowledges individuals who contribute, or who have contributions made in their name, of US$1,000 to The Rotary Foundation of Rotary International.
It was established in 1957 to show appreciation for and encourage substantial contributions to what was then the Foundation's only program, Rotary Foundation Fellowships for Advanced Study, the precursor to Ambassadorial Scholarships.
Members who would like to support the Foundation on a regular basis, can join the Paul Harris Society.​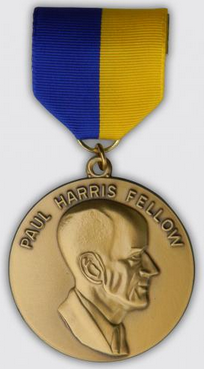 Past Recipients:
Robert G. Applegate
Charles W. Archinal
Kenneth Y. Atchely
Charles E. Bain, Jr.
Nicholas Barbato
David Barbour, III
David Barbour Jr.
Jeanette E Barbour
Clifford W. Becker
William J. J. Beitel
Howard M. Berger
Marlon Bernstein
J. Ross Bevis
James Biggs
Donald Bixby
Mrs. Mary "Pete" Bixby
David Breidinger
Elizabeth Brian
John G. Brian
Kristy Bruce
Earle S. Cathcart
Gerald F. Clark, Jr.
William Cleave
Theodore H. Cooper
John Dilliplane
Harry L. Dubel
Donald W. Durham
Peter K. Emmons
George N. Ewing
Richard Fineburg
Janet Flanery Manfredi
Gudrun Frank
George A. Franklin
James J. Freda
Owen O. Freeman, Jr.
Furnie Gaines
George E. Gardner
Sydney Gough
Gregory Gourovitch
Mike Graglia
Eugene M. Granniss
Theresa Guarni
James A. Gutowski
Ken Hardy
Scott Harrah
Fredrick Haulenbeck
Harry R. Hill, Jr.
Mildred Hindley
Vincent Hindley
Denise Hoffman
William Hogan
Curt Hubert
Mark A. Iorio
Lawrence Jacobson
Albert Katz
Richard Koenig
Harold Koslow
Janet Krawtschenko
Craig Lafferty
Richard Lazarick
Harold Levenson
RJ Lewis
Samuel J. Lloyd
Leigh W. Lockwood
Sandra Lohr
Joseph T. Loth
Joan Lucci
Joe Lucci
Thomas Maddock
Peter G. Manetas
Thomas McMahon
R. William Miller
John Monahan
J. Earl Munnion
David Navazio
Richard Norton
Donald H. O'Hara
George H. Palmer
Charles S. Parkerson
Glenn Paul
George H. Pearson
David B. Pierce
Karla Pollack
Al Quinton
Yolanda Reiss
Robert V. Ryan
Sheldon B. Robertson
Lawrence Rothwell
Frank Schmidt
Christine Secrist
Adam Shanks
William Sheehy, III
John Sheridan
Michele Siekerka
John B. Sill, Jr.
Emil Slaboda
Robert Stahl
Charles Stokes, III
John J. Theoharis
Harold W. Thompson, Jr.
Kenneth G. Tillman
David C. Trout
Mike Tusay
J. Lewis Unsworth
Rhonda Vinson
U. Samuel Vukcevich
Roscoe L. West
Frederick A. Zoda
Bob Waite