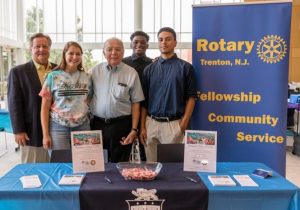 Member John Donohue, VP for College Advancement at TCNJ, recently arranged for Trenton Rotary to participate at their ConnectFest for freshman students. It's an opportunity to showcase local organizations and provides opportunities for students to volunteer and become more involved.
John Donohue, his assistant Annie Nyce, Bob Ryan and several students manned the Trenton Rotary table at ConnectFest to recruit students for the TCNJ Rotaract Club. Rotaract is Rotary at a college level. More than 20 students have expressed interest in getting involved in the Rotaract Club and we have captured names and email addresses to get the Club started this Fall.
The Rotaract members will have time for classes, study, opportunities to meet like-minded students, and help in community projects. Interested Rotary members who believe in the value of working with youth will be needed to help start this new venture at TCNJ.