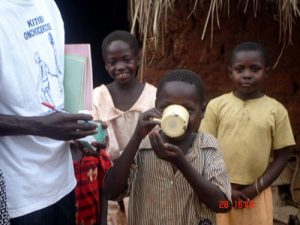 TRENTON ROTARY JOINS THE FIGHT AGAINST RIVERBLINDNESS
Led by one of its members Dr. Daniel Shungu, who is Executive Director of UFAR, an African-inspired, US-based nonprofit organization, the Trenton Rotary has organized to give Shungu its full support. By so doing Trenton Rotary has added to the efforts of former President Jimmy Carter and the World Health Organization/African Program for Onchocerciasis Control (WHO/APOC) in eradicating this debilitating disease that causes blindness in people in Africa and Latin America.
Dr. Shungu launched  the river blindness control program in the Congo.  He organized and planned deployment of treatment in the region of the country assigned to his organization. Mectizan, the medicine for this disease provided free by Merck.
Official website:  www.riverblindness.org
Highlights from January 2013 Trip to DRC
June 2008 Daniel Shungu reports from his trip in Africa
UFAR's primary mission is to participate, in partnership with other organizations, in the control and elimination of onchocerciasis as a major public health problem in the Democratic Republic of the Congo (DRC). UFAR was founded and registered in the US in 2004 by Dr. Daniel Shungu, a former Merck & Co. Inc. employee who, as a Congolese by birth and a naturalized US citizen, was determined to give something back to his native country. The decision to establish UFAR was a logical conclusion from his prior discussions with national health authorities in the DRC and a field trip he undertook to several remote onchocerciasis-endemic villages in the country to see first hand the tragedy of onchocerciasis. UFAR was registered as a tax-exempt organization in the DRC in 2005, and it has now established an office in that country (Kinshasa, DRC).
Located in the heart of Africa, the DRC has a population estimated at 70 million people and occupies an area which is equal to the size to the USA East of the Mississippi River. Approximately 27 million or a third of the population is at risk of getting onchocerciasis, 7 million are actually infected and about 70,000 are blind from the disease.