THE STUDENT EXCHANGE PROGRAMOF THE ROTARY CLUBS OF TRENTON, NEW JERSEY & OMIYA, JAPAN
RESEARCHED BY KEN TILLMAN AND UPDATED IN JULY, 2002
Since its beginning in 1969, the student exchange between the Rotary Clubs of Trenton, N.J. and Omiya, Japan has been an important international program for both clubs. It has provided an outstanding opportunity for increasing understanding between our two countries as well as giving students a rare opportunity to be immersed in the culture of the exchange country. Students live in the homes of Rotarians while on exchange and participate in family activities. The friendships that have developed over the years provide ample evidence of the value and importance of this exchange program which is so highly respected by Rotarians in both countries. It is probably not surprising that this experience has led to a change in career goals for some students and for every student it has given a much broader global view which has, in turn, impacted on their lives in many ways.
The idea for this program began in 1967 when Mr. Ito, a representative of the Fuji Corporation, "made up" at the Trenton Rotary Club (A make-up visit is when a Rotarian visits another club and "makes up" the regular meeting of his or her own club). It was on this occasion that he met a Trenton Rotarian, Mr. Tadafumi (Tad) Mikkuriya. Tad had joined the Trenton Rotary Club on March 19, 1959. He was a structural engineer who had graduated from the University of Pennsylvania and then founded a company called Tada Engineering in Trenton. Tad was born in Saga, Japan and developed a friendship with Mr. Ito as a result of his "making up" at Trenton Rotary.
On September 18, 1968, Tad visited the Omiya Rotary club and gave a request to the club members to form a sister-club relationship with the Trenton Rotary Club. (Records do not indicate if he made the trip to Omiya for this purpose, or if, as is more likely, he arranged to visit the Omiya Rotary Club while on a business or family trip to Japan.) One month later, in October of 1968, Mr. Arai from the Omiya club visited Trenton and discussed with Trenton Rotary members the possibility of a sister-club and/or student exchange program. He must have received a positive response since he returned to Japan and presented the same idea to the Omiya Rotarians October 17, 1968. The matter was referred to a committee and just a few weeks later on November 6, 1968, the committee made the decision to enter into a relationship with Trenton Rotary.
Records don't indicate whether the sister-club concept was dropped or if the student exchange was considered to be the initial part of a more far reaching sister-club concept. After this point all records speak of the student exchange program and do not mention the sister-club program. Because of his vigorous efforts to institute the exchange program, his extensive support during the formative years of the exchange, and his ability to bridge the communication gap between the two clubs, Tad Miuriya is referred to as "The Father of the Exchange" in Omiya.
Trenton Rotarians were also carrying on discussions about instituting the exchange program at this time. In May, another Trenton Rotarian, Bob Schierck, visited the Omiya Rotary Club. At the Omiya club meeting on May 21, 1969, Bob was formally introduced and then led a discussion about the student exchange. No doubt he shared proposals from the Trenton Rotary club and there must have been a good deal of give and take as procedures for the exchange were agreed upon. It was decided that the sending club would pay travel expenses and the host club would pay living expenses. The program has followed this principle from 1969 until the present.
The Japanese Rotarians did not waste any time. In fact, on June 4, 1969 the exchange program was announced at their meeting and Rotarians were asked to get English speaking applicants for the exchange. Two weeks later on June 18, 1969 they selected two young men to come to Trenton as the first exchange participants. One student was in his second year of Medical School and the other one was in his second year of Electrical Engineering School.
On August 11, 1969 this long standing exchange began. The following year three young men traveled to Japan as the first Trenton Representatives.
The number of students who have participated each year has varied from one to six. Ages have also ranged considerably but most have been between the ages of 16 and 22. Trenton Rotarians are pleased about this program since it is not a Rotary International program, but a program designed specifically for the families of Trenton and Omiya Rotarians. In the beginning, Students went for three or four weeks during the summer months, recently the stay has been reduced to 2 weeks.
Both clubs provide for all expenses, except for personal purchases, while students are being hosted. Students stay with several families and are treated to a variety of experiences in addition to the best experience of all, which is participating in typical family activities. Japanese students return after experiencing New York City, Philadelphia, Washington D.C. and the shore in addition to many local activities. Our students typically get to visit Tokyo, ride the bullet train, visit temples, and participate in traditional ceremonies and rituals. It is a life influencing experience.
John Theoharis and Ernie Rydell visited the Omiya Rotary Club in May of 1978 while attending the Rotary International Convention in Tokyo. In the summer of 2000, two Rotarians from the Omiya Rotary Club, Akira Iwasaki and Tomikazu Nagamine, accompanied their students to Trenton for a week. We were also privileged to have Ryoko Nagamine, wife of Tomikazu, with us during this time. From Trenton Mike Tusay has visited Omiya. Karla Pollack, Ken & Dee Tillman, and Bill & Maryann Beitel attended a Rotary reception in Omiya after attending the 2004 RI Convention in Osaka. It is visits such as these and the work of many Rotarians from both clubs in planning the program, hosting students, and arranging for meaningful activities that has kept this program being such a special international activity for our club and for the Omiya club.
The exchange progressed on an alternate year basis from its beginning in 1969 until 1976-77 and 1978-79 when the Trenton Rotary Club did not send students even though the Omiya Rotary Club sent students in 1977-78. In 1979-80 Trenton again resumed sending students. The program was paused again for the year 2011 due to the Fukushima Daiichi nuclear disaster.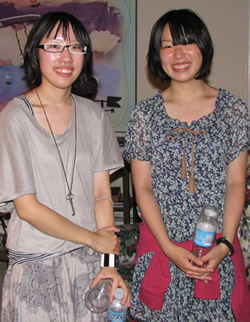 2008: Waka Tokuyama & Natsu Koike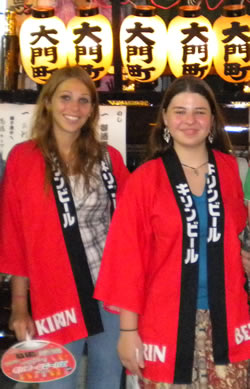 2009: Caroline Frank & Julia Cooper
Program Attendees
1969 (2)
Japanese medical &
engineering student
1970
Frederick A. Brown
Lawrence M. Brown
Peter C Backes
1971
1972
David Brearly
1973
1974
David H. Dutch
1975
1976
No exchange
1977
1978
No exchange

1979
Phil Cooper
Mark Aleun

1980
1981
Stacey Fineberg
Phillip Berger
Rick Cooper
Elizabeth Ann Beitel

1982
1983
Karla Tillman
Thomas Lee Roberts

1984
1985
Darcy Tillman
Sally Feinberg
Kathy Beitel
Ed Beitel
1986
1987
Dana Tillman
Alison Berger
1988
1989
Keith Rademaker
Edward Beitel
William Beitel
Kimberly Ann Gutowski
Megan Miller

1990
1991
Shana Fineberg
Rachel Stark
1992
1993
Jennifer Robinson
Missy Famosa

1994
1995
Nima Taylor
Michael Sheehy
Lauren Sheehy

1996
1997
Jennifer Cathcart
Lisa Lockwood
Daniel Bevis
Joseph Bevis
Kathleen McMahon

1998
Akiko Egawa
Mitsue Hamano
Sho Iwasaki
Hiromi Kawashima
Saori Narita

1999
Lindsay Newman
Jonathan Dillaplane
Brian Dillaplane
Jacelyn Bloom
Caitlin Monahan
Kieran Monahan

2000
2001
Erin Hogan
Mary Pagan (Hopewell Rotary)
Mike Tusay (Hopewell Rotary)
Ryan Inzana (Hopewell Rotary)

2002
Takatora Honda
Fuminori Iwase
Kayo Koseki
Misako Nagashima


2003
Dan Hoffman
Kate Manetas
Dylan Paul
Nick Tusay

2004
Kunihiro Hirata
Sakurako Honda
Yuuki Iwase
Kaori Shibuki

2005
Katie Pesto
Lauren Duvall
Hailey Duvall

2006
Yukichi Tokuyama
Natsuko Honda

2007
Sean MacMorris
Alexander Maldonado
Alex Sisko
Amanda Reyes

2008
Waka Tokuyama
Natsu Koike

2009
Caroline Frank
Julia Cooper

2010
Mana Emoto
Mamiko Sakurai
2011
No visit due
to the tsunami
2012
Hina Iino
Mia Emoto
Yuki Kobayashi
Tomoki Kishi
2013
Zachary Milestone
Richard DePaola
Roxanne Paul
2014
Mika Endo
Kai Otake
Mana Shindo
Miho Kosaka
2015 Recap
Shaylan Kolodney
Alex McGrainer
Mallory Milestone
Christopher Iorio
2016
2016
2017
2018
2019
Emily Navazio
Erika Bullock
Emily Gourovitch
Miller Cleave